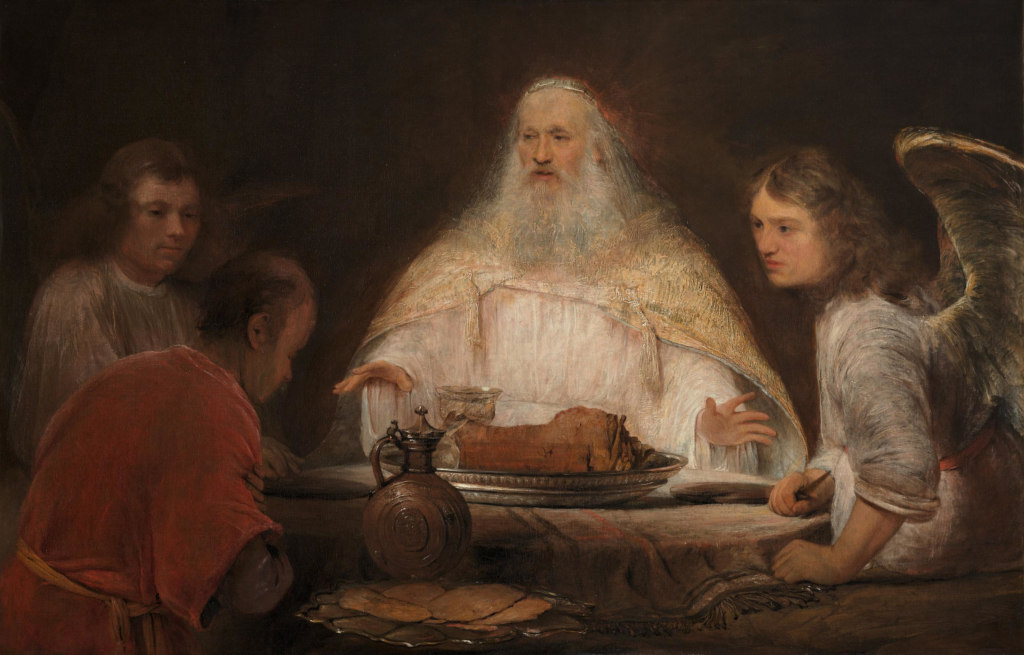 Ch. 3
On the Second Watch
The second hour of this vigil lasted from Noah to Abraham, when Noah, Sham, Eber, and Thare stood guard, as the following psalms suggest. Domine Deus meus (Psalm 7) represents Noah, whom the Lord found just in his generation and saved from the "persecuting" waters (Genesis 6). Domine Dominus noster (Psalm 8) fits Sham, whom the Lord "crowned with glory and honor" when he raised him above his brothers through his father's blessing. Confitebor (Psalm 9) points to Heber, who "told the wonderful deeds of God" when he "rooted out the city" of giants. In Domino confido (Psalm 10) presents us with Thare who "trusted in the Lord" when a "wicked people" forced him to worship fire, and the portion of their cup was "coals of fire and sulfur." These four psalms too are sung under one Gloria Patri, because we know that these fathers who shone brilliantly with the four virtues also worshiped the Trinity. The antiphon manifests the devotion of their praise.
Ch. 4
On the Third Hour
The third hour of the vigil ran from Abraham to Moses, when Abraham, Isaac, and Jacob kept the turns at watch. The next psalms proclaim this.
Salvum me fac (Psalm 12) expresses Abraham when "there was no longer anyone who was godly," when he was almost the only one who worshipped God, and the whole world was wallowing in idolatry. Usquequo, Domine, oblivisceris (Psalm 13) tells of Isaac, with whom "the Lord dealt bountifully" when he appeared as a figure of Christ in all things. Dixit insipiens (Psalm 14) shows us Jacob, whom "the fool" Laban devoured "as his prey," deceiving him several times. Because the Lord was his hope, he kept him from evil and "Jacob rejoiced, and Israel was glad." Domine, quis habitat (Psalm 15) presents Joseph who "entered without stain" when he refused to commit a vile act and "did what was right" when he saved the people from the danger of famine.
These four also conclude with one Gloria Patri because we read that these sentinels shone with the four virtues and worshipped the Trinity. The antiphon is the praise they exhibited to the Divine Majesty. For these antiphons are like songs the watchers sing.
Ch. 5
The Versicle
A verse follows. "Verse" comes from "turning" (vertendo) because the choir turns toward the East, and turns from the psalms toward love. Then the Lord's prayer is said in silence (secreto), signifying the secret (secretum) counsel of the king. After the Our Father the priest says the verse out loud, like a king giving orders to his legates. The turns of the lectors are the successions of legates. The one who says Iube, domne, benedicere, is as if he is asking leave to go. The priest's blessing is the emperor's permission. The reading itself is the execution of the legation. Tu autem Domine expresses the legate's return, when he has fulfilled his commission.
Ch. 6
On the Readings
The readings display the preaching of those fathers, the responsories their life, which corresponded with their preaching. After the vigil come the readings of Abraham, because it is said that he was the first one after the flood to discover letters, and taught the Chaldeans astronomy, and trained the Egyptians in mathematics. The readings come after the first vigil because at the end of the first age the books of the Law were published by Moses for the people's instruction.
---
CAP. III. – De secunda hora.

Secunda hora huius vigiliae a Noe usque ad Abraham erat. In qua Noe, Sem, Heber, Thare vigilabant, ut sequentes Psalmi insinuant. Domine Deus meus (Psal. VII), Noe exprimit, quem Dominus in sua generatione iustum invenit, et ideo a persequentibus aquis salvum fecit (Gen. VI). Domine Dominus noster (Psal. VIII), Sem congruit, quem Dominus gloria et honore coronavit, dum eum benedictione patris super fratres sublimavit. Confitebor (Psal. IX), Heber innuit, qui omnia Dei mirabilia narravit, quando civitatem gigantum dissipavit. In Domino confido (Psal. X), Thare depromit, qui in Domino confidit, quando impia gens ignem adorare coegit, cuius pars calicis, ignis et sulfur fuit. Hi quoque quaterni psalmi sub uno Gloria Patri canuntur, quia et illi patres in quatuor virtutibus rutilantes Trinitatem adorasse noscuntur. Antiphona vero modulationis praefert devotionem illorum laudationis.
CAP. IV. – De tertia hora.
Tertia hora vigiliae ab Abraham usque ad Moysen fuerat, in qua Abraham, Isaac, Iacob et Ioseph vices vigilandi custodiebant, qui instantes psalmi proclamant.
Salvum me fac (Psal. XI), Abraham exprimit, quando sanctus defecit, cum videlicet ipse pene solus Deum coluit, et totus mundus idololatriae deditus fuit.
Usquequo, Domine, oblivisceris (Psal. XII), Isaac innuit, cui Dominus bona tribuit, dum Christi figuram in omnibus praetulit.
Dixit insipiens (Psal. XIII), Iacob ostendit, quem insipiens Laban sicut escam devoravit, dum eum saepius defraudavit. Scilicet quia Dominus spes eius fuit, malum ab eo avertit, unde exsultavit Iacob, et laetatus est Israel.
Domine, quis habitabit (Psal. XIV), Ioseph demonstratur; qui sine macula est ingressus, dum stuprum recusabat, et operatus est iustitiam, dum populum a periculo famis liberavit. Hi etiam quaterni sub uno Gloria Patri clauduntur, quia hi vigiles quatuor virtutibus splendentes Trinitatem coluisse leguntur. Antiphona melodiae est laus ab eis exhibita maiestati divinae. Sunt etiam istae antiphonae quaedam vigilum cantilenae.

CAP. V. – Versiculus.

Versus qui sequitur, a vertendo dicitur, ideo quia se vertit de psalmis chorus ad Orientem, et quia se vertit de psalmis ad dilectionem; per orationem Dominicam, quae secreto dicitur, secretum regis consilium intelligitur. Post pater noster sacerdos versum aperte dicit, quasi rex mandatum legatis iniungit. Vicissitudines lectorum sunt successiones legatorum. Qui iube, domne, benedicere dicit, quasi licentiam eundi petit. Benedictio vero sacerdotis est licentia imperatoris. Ipsa autem lectio est iniunctae legationis exsecutio. Tu autem Domine, reversionem legati exprimit, dum commissum mandatum redit.
CAP. VI. – De lectionibus.

Lectiones quoque praedicationem illorum patrum praeferunt, responsoria vitam eorum, per quam praedicationi responderunt. Ideo autem post vigiliam Abrahae lectiones leguntur, quia ab eo primitus litterae post diluvium repertae traduntur, et ipse primus Chaldaeos astronomiam docuit, et Aegyptios mathematica imbuit. Ideo etiam peracta prima vigilia lectiones leguntur, quia transacto primo tempore libri legis ad doctrinam populi a Moyse eduntur.